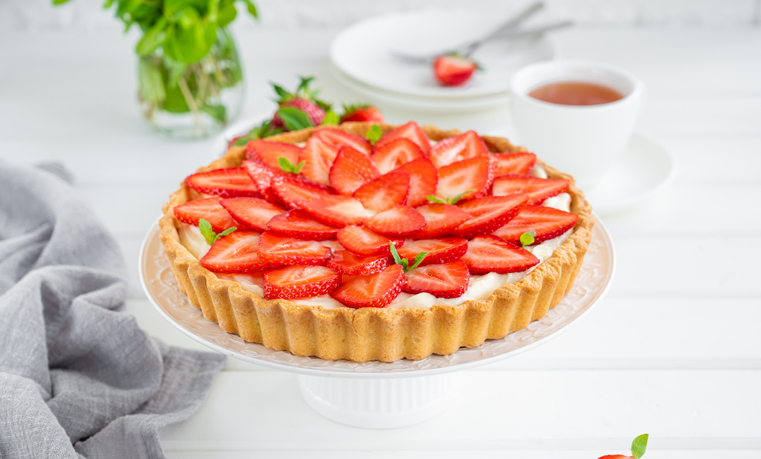 The question is not, "Do you like sweets?" The real question is, "Who doesn't like sweets?" Sweets are a simple pleasure to enjoy after a meal or when you need a break from the day. However, sometimes it can be difficult to eat certain sweets, especially when you have food restrictions. One food restriction that can be limiting is being a vegan or following a vegan diet. There are many reasons for eating vegan. Maybe you are mindful of animals. Maybe certain foods that are nonvegan mess with your digestion. Or you could simply want to eat cleaner at times. Whatever your reason, following a vegan diet is not terrible. It can just make your options limiting, especially with desserts. Thankfully, Aglow Lifestyle offers some incredible vegan options. Try these vegan dessert recipes this summer.
Lemon Cheesecake Tart
If you are a vegan, then you may think that cheesecake is off the menu. You can think again with this Lemon Cheesecake Tart. Enjoy the sweet and tangy flavors of traditional cheesecake without the guilt. This recipe takes it to the next level with a delectable granola crust. Need more convincing? This dessert is also soy and gluten free!
Creamy Lemon Coconut Tart
You know that you love the taste of summer. The tartness that comes from fresh lemons. The subtle, tropical sweetness that can be found in coconut. You can savor this blend of flavor in this Creamy Lemon Coconut Tart. Not only is it vegan, but it is also gluten free.
Blueberry Lemon Thyme Tart
Craving something sweet that is also earthy and aromatic? Try this Blueberry Lemon Thyme Tart. The bottom of this tart is made from flaky puff pastry dough, which is every patisserie-lovers dream. The recipe does call for one egg, but this can be substituted with an egg alternative such as JUST Egg for a truly vegan option. You will also be satisfied with the subtle sweetness that comes from the vanilla and honey, which are complemented by the herbal thyme in this dessert.
5 Ingredient Rustic Vegan Berry Chocolate Tart
Want some chocolate with all these fruit tarts? Try your hand at making this 5 Ingredient Rustic Vegan Berry Chocolate Tart. As the name implies, you only need five ingredients for this tasty treat. Chocolate and strawberries are a match made in heaven. While vegans sometimes have to skip the chocolate, you will not when you use Hu Dark Chocolate, which is both vegan and paleo-friendly.
You might also like: Get Your Car Ready For Summer Road Trips
Chocolate Caramel Tart
Forgo the fruit altogether as you delight in this decadent Chocolate Caramel Tart. It may be hard to believe how this dessert is vegan-friendly. After all, this recipe does not hold back on the chocolate. There is a chocolate crust and a chocolate ganache. Do not forget the caramel center. In lieu of butter which normally helps bind the crust together, this tart's crust uses melted coconut oil and maple syrup.
If you have ever made homemade caramel, then you know that it involves rich butter and indulging heavy whipping cream. To make the caramel for this vegan dessert, the recipe calls for cashew butter, melted coconut oil, and some maple syrup as well. When you go to make the chocolate ganache, you can make the ganache vegan-friendly with vegan dark chocolate and coconut milk.