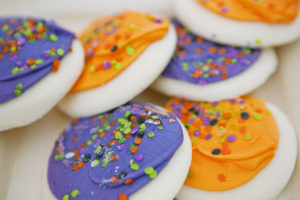 Trick or treat? More like trick and treat. Because we've found a whole bunch of recipes that will both creep you out and please your palate simultaneously. So get into the Halloween spirit and bake a batch of spooky cookies this week.
Spider Cookies
These spiders don't bite. You bite them.  This tasty treat is ideal for your next Halloween party or just for snacking around the house. You may even find that making Spider Cookies is as fun as eating them.
Skeleton Cookies
Day of the Dead is right after Halloween, so a Skeleton Cookie recipe could be exactly what you need this time of year. Come to think of it, you may want to double up.
Monster Cookies
We don't know if there's a monster under your bed, but there should definitely be a monster in your kitchen. That's because these Monster Cookies are not only easy to make, they're delicious.
Iced Pumpkin Sugar Cookies
What's Halloween without a pumpkin-themed cookie? In this Iced Pumpkin Sugar Cookies recipe they're all smiling. Seems suspicious.
Candy Corn Cookies
There are two kinds of people in the world. Those who love candy corn and those who hate it. But they can both agree that Candy Corn Cookies are delicious. After all, it's just the candy corn look that inspires the name.
Pumpkin Chocolate Chip Cookies
We're jumping on the pumpkin spice bandwagon here with our recommendation of Pumpkin Chocolate Chip Cookies. But give them a try and you really won't be able to blame us. They're irresistible.
Mummy Cookies
Mummies are a fixture around Halloween, so Mummy Cookies should be too, right? Plus, after one bite you'll see: what's all wrapped up in these cookies is too die for.
You Might Also Like: Try These 5 Tasty Seafood Meals
Sugar Cookie Eyeballs
When you're cookie is staring back at you, well, we really can't think of anything creepier than that. But that's what happens when you sink your teeth into these Sugar Cookie Eyeballs. Still, they're absolutely delicious. And, to tell you the truth, now that we've tasted them, we can't envision Halloween without them.