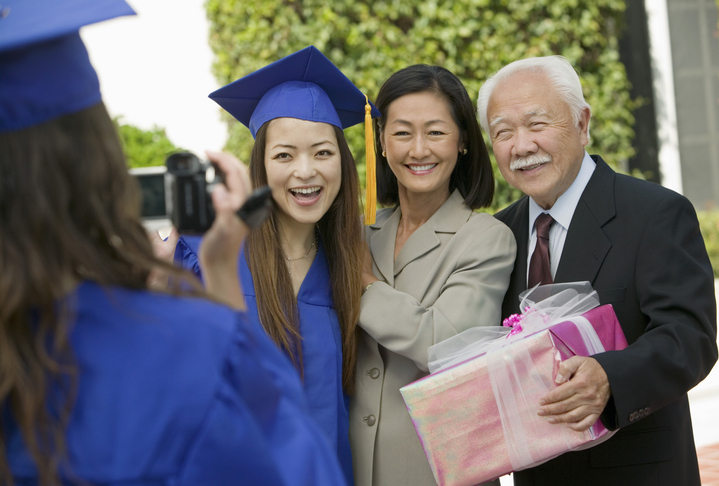 Your child has just graduated. Whether they graduated from high school or college, they have accomplished an incredible milestone. You want them to know how proud of them you are with a meaningful gift or a present that will help them prepare for the next chapter of their life. Not sure what to get your student for graduation? Good Housekeeping offers several gift ideas that your graduate is sure to love and appreciate.
Scratch Off Map
Whether your student is graduating from high school or college, many graduates take a trip abroad to celebrate. It is a wonderful way to take a break from school before they take the next step in life. If your child captivated by wanderlust, then you may want to give them this Scratch Off Map. As they travel around the globe, they can scratch off the places that they have visited.
Kodak Printomatic Instant Camera
If your child is taking a trip, then they will certainly want to have mementos to remember their time overseas. A photo is worth a thousand words, so why not give your student a camera. This Kodak Printomatic Instant Camera is excellent, and your graduate will love using it on their travels as well as other momentous occasions.
Wireless Bluetooth Over Ear Headphones
A gift that your graduate may find useful are these Wireless Bluetooth Over Ear Headphones. Whether they are graduating high school or college, these headphones can come in handy while your student is studying at university or working in the office. These headphones can help tune out surrounding distractions as they work.
Mini-Fridge
If your student is graduating from high school, then there are some things they will specifically need for their dorm room. Consider giving your child this mini-fridge. This will help your child have an assortment of snacks and waters or sodas that they may need when they need a study break.
Coffee Maker
Your student will no longer have you to wake them up in the mornings. Waking up by themselves for college classes or work may take some adjustments. Help them ease into their mornings by gifting them a coffee maker.
Gift Card
Some people may consider gift cards impersonal, but do not dismiss the idea of a gift card. Some people are very particular. You want to make sure that you give your loved one a gift that they actually want, rather one that they obliging accept. Gift cards actually make great gifts as it allows your graduate to have the means to purchase something they truly want. The other great thing about a gift card is that it does not have to be used right away. It may be a few weeks or even a few months down the road when your graduate realizes something that they need, and they certainly will be thankful that they have a gift card to purchase that item.
You might also like: Tips For Driving In The Rain
Messages in a Bottle
If you are wanting to give a gift that is quite meaningful, then consider messages in a bottle. Gather helpful and encouraging messages from friends and family. Roll them up and place in a bottle. On graduation day, you can present the bottle to the graduate. Whenever they need a little pick-me-up, they can take out a message from the bottle and read an encouraging note from a loved one.