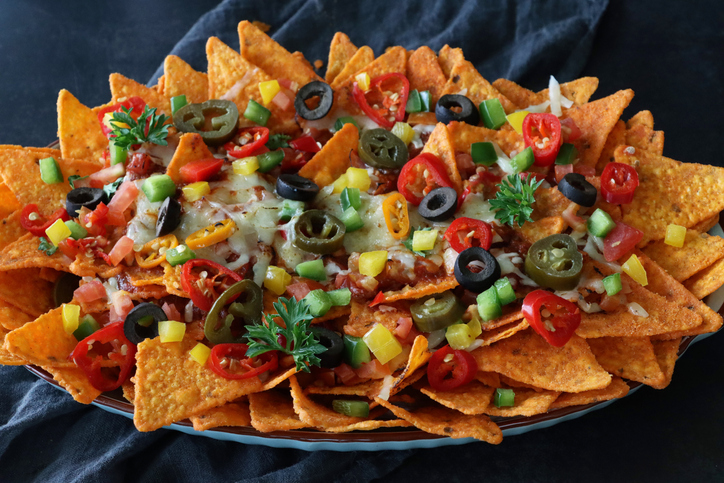 This March, the NCAA Men's Division I Basketball Tournament will be full of thrills. While you watch the games, you will want to pair the excitement of the games with delicious snacks. There are certainly a number of snacks you could prepare as you screen the tournament, but one of the best snacks for games like these are nachos. Now, you certainly could go the basic route for nachos with tortilla chips, nacho cheese sauce, and maybe some jalapeños, but there are many different gourmet nacho recipes to try this season. Here are some appetizing nachos to have during the Division I Basketball Tournament.
Shrimp Nachos
While many lean towards ground beef or chicken for nachos, you certainly can enjoy the bounty from the sea with these Shrimp Nachos. With one and a half pounds of large peeled and deveined shrimp, chipotle peppers, cilantro, and Monterey Jack cheese, you can have a scrumptious seafood snack for the game.
Memphis BBQ Pork Totchos
Maybe you are craving some BBQ. You certainly do not have to have a full cookout to savor the flavor of barbecue when you make these Memphis BBQ Pork Totchos. This recipe substitutes tortilla chips for tater tots. You will also need two cups of cooked pulled pork, half a cup of barbecue sauce, shredded Pepper Jack cheese, and chopped pickled jalapeño peppers.
Awesome Irish Nachos
The Division I Basketball tournament begins only three days before St. Patrick's Day this year, so it is only fitting that you create some nachos that pay homage to the Green Isle. This recipe for Awesome Irish Nachos are truly awesome in flavor. Of course, what makes these nachos "Irish" is the use of the mighty potato. Instead of chips, this recipe uses frozen waffle fries. The rest of the recipe embraces ingredients typical for Mexican fare. Enjoy the flavor of guacamole, jalapeños, shredded Mexican cheese blend, and more.
You might also like: Local Coffee Houses To Try In Crestview
Sheet Pan Greek Salad Nachos
For nachos that offer fresh flavor, you should try the Sheet Pan Greek Salad Nachos. With Mediterranean ingredients such as red onion, chickpeas, Roma tomatoes, lemon juice, olive oil, cucumbers, Greek yogurt, rotisserie chicken, dill, feta cheese, pepperoncini peppers, and Kalamata olives, you and your friends can enjoy the flavor from the Greek islands in one tasty snack.